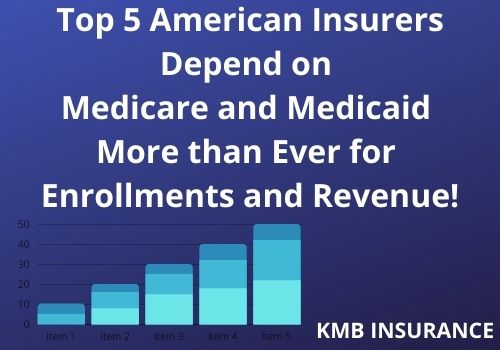 According to a report from Health Affairs, the top five American insurers are becoming increasingly dependent on Medicare and Medicaid for enrollment, revenue, and profit growth.
The report states that UnitedHealthcare, Anthem, Aetna, Cigna, and Humana cover a collective 43 percent of the U.S. population. Thanks to the reality of an aging population, Medicare and Medicaid account for approximately 60 percent of that revenue base and 20 percent of their membership.
You might also want to read our article titled Is Medicare Running Out of Money?
All five companies saw increases in overall enrollment, while four of the five insurers reported growth in enrollment by at least 20 percent from 2010 to 2016.
UnitedHealthcare, for example, reported an enrollment boost of 33 percent from 2010 to 2016.
This membership increase has expanded more over the course of the 2010 to 2016 period than the five years prior to the study, which references the efficacy of the passage of the Affordable Care Act. Signed into law in March of 2010, the Affordable Care Act doubtlessly led to increased enrollments in Medicare and Medicaid services.
The numbers bear that out, of course.
Increased Enrollment Due to Medicare and Medicaid
Across the five companies, Medicare and Medicaid enrollments doubled from 12.8 million to 25.5 million between 2010 and 2016.
Humana and Anthem have Medicare and Medicaid to thank for two-thirds of their increased enrollment growth in the reported period. Humana claims one-third of its members as enrollees in Medicare Advantage programs, with another five million holding Humana Part D plans.
Consider that Medicare Advantage plays a huge role, as the top five companies account for 52 percent of the market. The companies have adapted their respective approaches to meet the growing enrollments of Medicare and Medicaid, positioning themselves as feasible options in the marketplace.
They've actively sought plans active in the Medicare and Medicaid markets. In some cases, companies have even acquired other smaller groups with considerable Medicare business. That was the case when Anthem, formerly WellPoint, scooped up Amerigroup and its Medicaid-heavy membership in 2012.
By adapting to changing markets and obtaining companies with substantial Medicare and Medicaid enrollment bases, companies are not only intensifying their support but expanding into different states. The aforementioned Anthem deal pushed the company into 20 new states. Comparably, Aetna's 2013 acquisition of Coventry kicked up a million Medicaid members and expanded its base from 12 to 16 states.
UnitedHealthcare has wisely partnered with AARP to further its lead down the road. The collaboration doles out Part D plans along with AARP, plus it includes several regional plans with a spotlight on Medicare Advantage. As of 2016, UnitedHealthcare's venture seems to be working: they've got Medicaid plans in 22 states.
If there's an outlier of the top five insurers, it may be Cigna. They seem to have benefitted the least from any Medicare and Medicaid contributions, with the smallest member share out of the five companies holding these plans.
According to the Health Affairs report, it's clear the Affordable Care Act hasn't dented the ability of the country's top five insurer's to hold profitable status. On the contrary, it seems many enterprises have been able to build a larger base and enjoy benefits from improved access and increased enrollment interest in Medicare and Medicaid.
With more people able to participate in these programs, more companies can take advantage and provide comprehensive services.
National Growth Among Insurers
And because these insurers have increased their capacity and spread services to more states, the eradication of active Medicare and Medicaid dead zones seems to be taking place. This has enabled large companies to move into spaces that were without ample coverage or that lacked coverage in the first place.
Geography remains a significant hurdle when it comes to producing plans that work for more people, but the model of the Affordable Care Act has provided a framework for insurers. By progressing with more Medicare and Medicaid investment and plunging into more developing markets, the top insurers can grow enrollment and consequently improve earnings.
And with more consumers exploring alternatives in services like Medicare Advantage, options for more accommodating care are also part of the discussion. That only enhances the capability for quality service and care for customers across the United States.